This infographic titled 'The Importance of Ergonomic Furniture For Professionals' will help you figure out how a professionally-designed ergonomic furniture plan can boost your productivity.
Furniture is an important element of an office interior plan. The features of furniture items will decide the level of comfort, convenience, productivity, and utilization of the available space. Let us check the benefits of adding ergonomic furniture to your professional space.
Hiring a consultant will deliver ergonomic furniture that will increase comfort and make a working environment more productive. The user's body will get the best support to avoid unnecessary stresses on the vertebral column.
Adding a headset for neck and shoulder support and a backrest for cervical support makes the chairs safer to use for hours and to avoid cervical spondylosis.
The height adjustment and the seat depth features are quite essential for proper feet and knee postures to avoid any stress on the lower extremities. Proper distribution of the body weight on hips and feet will help you avert specific musculoskeletal conditions in the long run.
Adding new ideas such as a sit-stand desk helps employees to stretch their legs without stopping working.
The turnkey solution will also add keyboard configurations that do not put stress on the hands and can deliver excellent typing speed. This plan also adds pivotal monitors along with ergonomic keyboards to avoid repetitive stretching and reaching. This will help employees to avoid fatigue, pain, and numbness in the hands and neck.
Working in an office space with customized ergonomic furniture solution will be ideal for the employees. They will feel less stressed and comfortable to escalate productivity. It is all about empowering dedicated employees by providing them a better workplace and showing that you care.
For more information, please refer to the infographic below.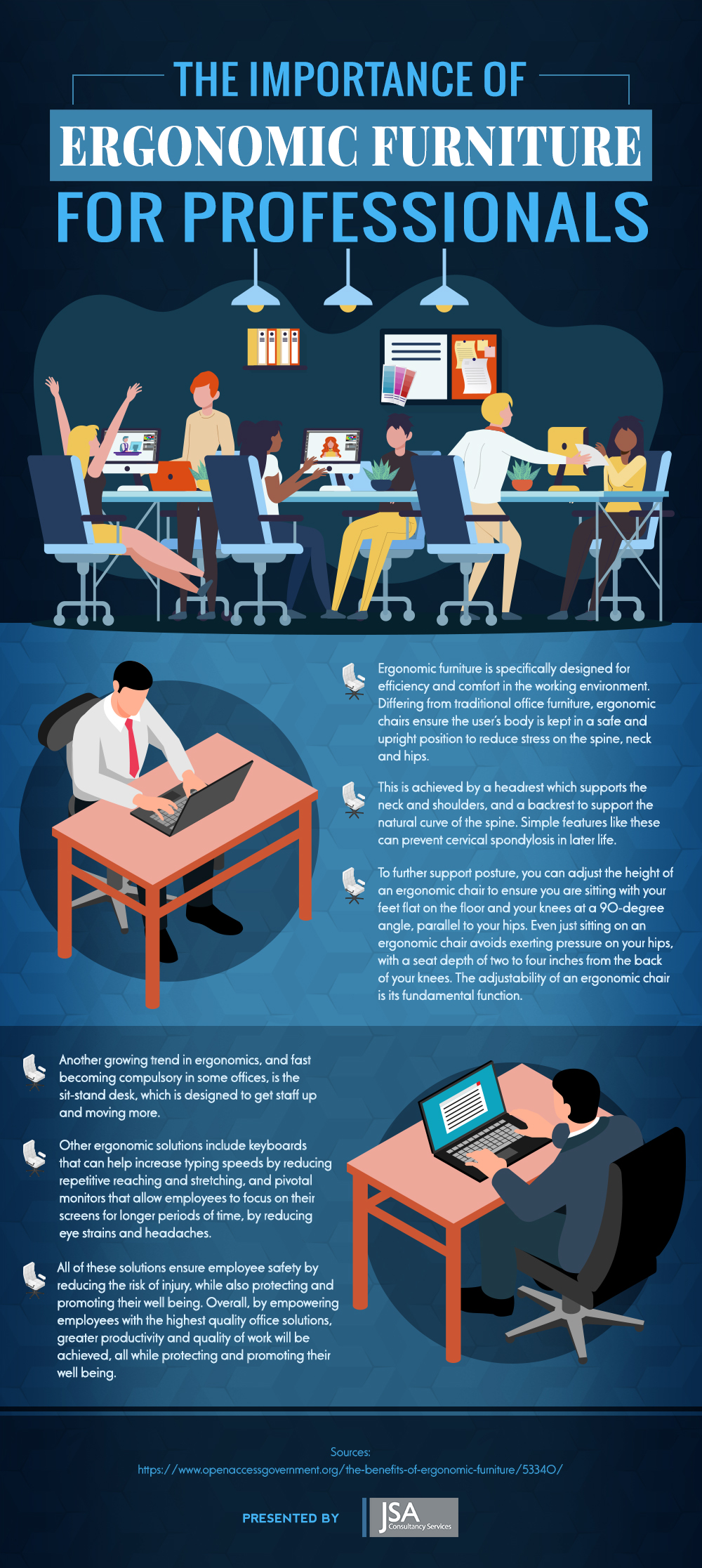 https://jsacs.com/blog/wp-content/uploads/2018/06/logo-1.png
0
0
jsa_blogs
https://jsacs.com/blog/wp-content/uploads/2018/06/logo-1.png
jsa_blogs
2020-12-31 08:01:24
2020-12-31 08:01:54
[Infograhic] The Importance of Ergonomic Furniture For Professionals