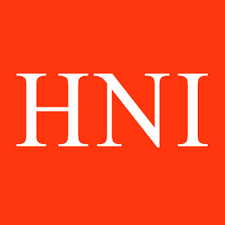 MUSCATINE, Iowa, April 20, 2018 /PRNewswire/ — HNI Corporation (NYSE: HNI) announced today, the retirement of Stan A. Askren and the promotion of Jeffrey D. Lorenger as President, HNI Corporation and the election of Mr. Lorenger to the Board of Directors of HNI Corporation.
Mr. Askren informed the Board he expects to retire as Chief Executive Officer and Chairman of the Board of Directors no later than December 31, 2018.  The Board anticipates Mr. Lorenger will be promoted to Chief Executive Officer before the end of the year.
Mr. Askren' s announced retirement along with Mr. Lorenger's promotion to President of HNI Corporation and election as a Director are part of a long-planned and orderly succession process that has been underway for an extended period.
"Jeff and I will be conducting a stepped and orderly leadership hand-off between now and the end of the year.  Jeff has a great track record of driving profitable sales growth in businesses he has led.  Jeff has a great set of developmental experiences, serving in multiple roles at corporate and in the operating units.  He is uniquely qualified to lead HNI Corporation," said Mr. Askren.
Mr. Lorenger joined HNI Corporation in 1998 and has held multiple executive level positions including as President, Office Furniture; President, Contract Furniture Group; President, Allsteel; Vice President, Sales and Marketing, The HON Company; and Vice President, General Counsel and Secretary for HNI Corporation.
"I have enjoyed my 26 years at HNI, more than 14 as Chairman, President and CEO, immensely.  I appreciate the tremendous support I have received from HNI members and from the HNI Board of Directors over the years.  It's been a great run.  I'm confident the best is yet to come under Jeff's leadership," said Mr. Askren.
https://jsacs.com/wp-content/uploads/2018/05/1524578439_HNI.png
225
225
jsa
https://jsacs.com/wp-content/uploads/2018/03/logo-1.png
jsa
2018-04-20 13:15:09
2019-07-01 12:24:39
HNI Corporation Announces Retirement Of Stan A. Askren And Appointment Of Jeffrey D. Lorenger